Dan Dare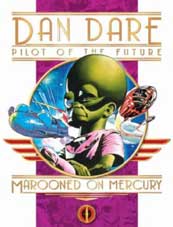 Details of Titan's latest Eagle reprints.
Two more volumes of Titan's lavish collections of the Pilot of the Future are out this spring.
Already published is Marooned on Mercury, an adventure that sees our hero crash land his ship into a lake of molten lead, then fall prey to the rock creatures that inhabit the planet.
This volume features an in-depth article about Dan Dare's most famous artist, Frank Hampson, and the first part of an interview with Hampson himself. There's also a foreword by celebrity fan Brian May of Queen.
Following this comes Operation Saturn part one, in which Dan must face the dastardly Dr Blasco, who is helping the evil Saturnian rulers attack Earth. You just don't get dastards like that these days. The volume also includes the final part of the Frank Hampson interview and a feature on Dan Dare merchandise.
Operation Saturn part one is published on 22 April. For more about Dan Dare, visit Cult's British Comics site.
---
---