Cyber comics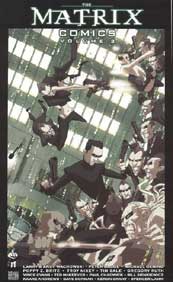 Ghost in the Shell and Matrix graphic novel details.
Fans of distopian futures in which machines and men are blended together will be thrilled by the latest releases from Titan Books.
One of the most famous manga of all time, Masamune Shirow's Ghost in the Shell follows cyborg agent Mokoto Kusanagi in a world where cybernetic implants and advanced artificial intelligences blur the line between humanity and machine.
Out on 25 February is a New Edition of the original manga - the first time the uncut story has ever been printed outside Japan. In traditional Japanese style, it reads from right to left. Also published on the same day is Ghost in the Shell 2, Man-Machine Interface.
25 March sees the publication of The Matrix Comics volume two, featuring thirteeen stories from writers including Bill Sienkiewicz and Poppy Z Bright. With art styles ranging from underground to full-colour paintings, it's rather like a comic version of the Animatrix.
---
---