Omega Factor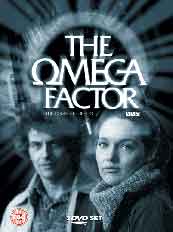 BBC Worldwide to release 70s paranormal drama.
Out on 20 June is a DVD of the BBC's ten-part precursor to The X Files and Sea of Souls, originally broadcast in 1979.
The Omega Factor concerns a secret government organisation called Department 7, whose mission is to investigate the supernatural and discover the Omega Factor. It's so secret only the Prime Minister and a few of the cabinet know about it.
While covering a story about a clairvoyant, journalist Tom Crane (James Hazeldene) discovers he has psychic powers, a factor that brings him to the attention of Department 7, headed by Andrew Scott Erskine (Brown Derby), Roy Martindale (John Carlise) and Doctor Anne Reynolds (Louise Jameson, Leela in Doctor Who).
---
---