Wonder Whedon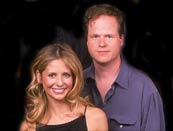 Buffy creator is in line for Wonder Woman movie.
Speaking at the WonderCon event in San Francisco at the weekend, Joel Silver said that he was bringing the Amazonian princess to the big screen, and that Whedon is in talks to write and direct.
"I'm trying to work a deal with Joss... I don't know if I could work that out. It's a complicated deal to do, but I would love him to do it."
Apparently, Whedon has come up with a clever storyline that offers an interesting twist on the superhero that Lynda Carter made famous on television.
"It's just a great, legendary comic-book hero, and it's one that has never been brought back to life after Lynda Carter. I mean, it's a reinvention. Tim Burton reinvented Batman after Adam West, and Richard Donner reinvented Superman after George Reeves. It's time to do that to Wonder Woman.
"The idea is to try to find a way to make it, and I thought Joss has a great idea, because he understands a kind of female superhero character, and also he's great at what he does."
---
---