Stargate DVDs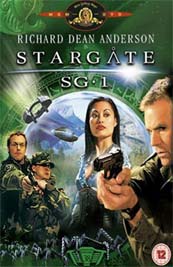 Details of the latest SG-1 and first Atlantis releases.
The next few weeks could be an expensive one for Stargate fans, with Stargate SG-1 volume 38 and Stargate: Atlantis volume one coming out.
The SG-1 release contains the first four epsiodes of season eight - two-parter New Order, Lockdown and Zero Hour. Extras include The Lowdown part one, a featurette about Atlantis, and a behind-the-scenes look at the making of an episode in the Director's Series featurette. The DVD comes out on 28 Feburary.
Then, on 14 March, the first Stargate: Atlantis release comes out. During the first four episodes Rising (parts one and two), Hide and Seek and Thirty-Eight Minutes, we follow a new team led by Dr Elizabeth Weir as they explore the lost city of Atlantis, unable to return home.
The DVD also includes an Atlantis preview, VIP Set and Studio Tour with Director Peter Deluise, and photo galleries.
---
---