X Files 2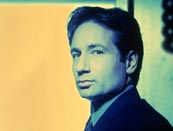 David Duchovny says it's all systems go for sequel.
Talking to Australia's Empire magazine, Duchovny says, "We're all happy to do it. Gillian and I. Chris Carter. So it's just a matter of getting everybody in the same spot. I think we'll shoot it next winter, in December."
The actor also said that the film will not just be for fans, but will be a supernatural thriller that anyone can follow.
"There's an idea in place. Chris won't show it to anybody. I think what's important in looking to do the show in a movie form is that it's accessible."
"The first one was conspiracy-orientated, alien-orientated, and I think that alienated some people... I think if you go at it as a supernatural thriller, then it can stand alone. Something like The Forgotten is very much like an X File and you don't need to know anything before going in."
But with so many false rumours about a new X Files movie circulating over the years, may we suggest a healthy degree of pessimism is adopted concerning this latest news?
---
---