Quatermass Remade!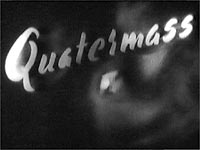 Quatermass Experiment remade live on BBC Four, 2nd April.
As part of BBC Four's TV On Trial season in March, Janice Hadlow, Controller of the channel, has commissioned a live adaptation of The Quatermass Experiment, the iconic 1950s sci fi classic production. This is the first live television drama to be shown on the BBC for over twenty years.
The Quatermass Experiment was a television phenomenon, attracting massive audiences when it burst into British homes in 1953. It brought science fiction to the small screen for the very first time and its eponymous lead character, rocket scientist Professor Quatermass, became the UK's first TV hero.
Janice Hadlow, Controller of BBC Four said: "I am thrilled that we're bringing Quatermass back to life. Playing as part of the finale to TV on Trial - BBC Four's quest to find the golden age of TV – it's wonderful to have one the first 'must-watch' TV experiences that inspired the water cooler chat of its day. I hope fans of the original series, as well as a new generation, will be gripped as Professor Bernard Quatermass races to save the world. And for the channel to broadcast the first live television drama for over twenty years is an added treat."
For aficionados of sci-fi and the paranormal, writer and creator Nigel Kneale is a hero, and the Quatermass series a landmark for British television, which led the way for future cult series such as Doctor Who. Now fans of the original series as well as a new generation will be gripped by the heroics of Professor Quatermass, when a rocket crashes to earth, unleashing a terrifying chain of events...
For BBC Four, it has been adapted and brought up to date by Richard Fell (executive producer and head of BBC Fictionlab, whose credits include the acclaimed Kenneth Tynan: In Praise of Hardcore and The Alan Clark Diaries), with Kneale – now in his 80's – as consultant. The director is Sam Miller (This Life, Quite Ugly One Morning, Elephant Juice and Among Giants).
Nigel Kneale says: "I am absolutely thrilled that 50 years after I created Professor Quatermass, BBC Four is remaking my programme."
TV on Trial invites the Great British public pronounce their verdict on whether today's TV better or worse than it used to be. Across a week from Sunday 27 March, BBC Four broadcasts some of the outstanding TV programmes of the past six decades of British television. Each night is introduced by two prominent broadcasting figures – one a champion, the other a critic of the featured decade. Viewers then register their votes and comments via email, text message and telephone. A live studio debate at the end of the week-long 'trial' announces the result.
Send us your comment now. We'll publish the best on this page.
P. Hoey
Great to finally see the surviving episodes of Quatermass Experiment and Quatermass 2.However,the final episode of the latter is the greatest exercise in mind numbing dullness I have ever had the misfortune to witness.
David Jones
In response to John Mallows I would like to say I loved the show, and to the BBC can I ask that you please, please, please remake the other stories and release this on DVD - please don't allow another 52 years to go by before you decide to release this gem, as you did with the original!!
Daniel
Also stuck in the land of Bad US Television (Battlestar Galactica excluded). Need US DVD release!
Martin SF
Enjoyed the production a lot. Yes, there was one minor fluff by the actor playing the reporter but there was also a brilliant 'crash tinkle' fall over by the policeman character, just off screen. This possibility of the random event and the immediacy of watching actors perform live is why productions such as this are so much more compelling than anything you may watch prerecorded. I'm also interested to know why the production ended 10 - 15 minutes early? Good effort & good wishes.
Kenneth Mann
I haven't enjoyed a TV drama so much for a long time. I would second the notion of doing more lost dramas in this way. How do the costs compare with dramas done in the usual manner?
Darrell Heath
Help!!! I live in the U.S. and only have crap to watch on T.V. Please make this available on DVD to North American viewers. Nigel Kneale wrote very intelligent T.V. and Gods know we need more of that here in the U.S.
Mark Cardwell
It was great: hope we can see similar restagings of Kneale's lost works in the future. I'd love to finally get a chance to see his 1984 or THE ROAD.
stu the viewer
Great production, with only one actor making a minor fluff on his lines, very impressive. Just one question why did it end early? Was it due to some technical difficulties?
Kalwinder Singh Dhindsa
I really enjoyed this adaption, it is a great story written by a brilliant author who practically invented British Science Fiction. Great Stuff
Nick
Saw last half, thought it was a good change 'low tech'
Simon
Was that Graham Norton playing the museum proprietor? He was very good - even if it wasn't him. By heck, it does me good to have Quatermass and Dr Who on the same day. I waited several decades for this! It was well worth it.
Rachel
Aren't we lucky, we're positively being saturated with David Tennant at the moment...more of the same, say I! All he needs now is the TARDIS, I can't wait!!!
John Mallows
RE "David Green Geat news about Quatermass.But what does live actually mean?Live in the studio or transmitted live? Cult host adds: It will be transmitted live as it is performed in the studio." Not entirely correct, it is being shot on location as and Outside Broadcast and transmitted live via satellite and transmited on BBC4. It is being recorded on site in High Definition for archive and later transmission on BBC2 and possible DVD output. The whole crew is excited about this project and we would love to do more! Please make your wishes known if you want more of this type of show.
M.Phillips
I was 10 when this went out originally. My brother and I watched all but the last episode then our parents decided the last one would be too scary and sent us to the cinema, with an aunt and uncle, so that they could still watch it. I can still remember several bits of it and will be watching this on April 2nd to see just how much I had remembered.
Alan French.
Although I stand by my previous comments concerning the original Quatermass Experiment, I would like to add some contructive information. You state that this was the first time science fiction was brought to our television screens. Actually I have seen a photograph, published in a BBC book, of a sci-fi play performed at and broadcast from Alexandra Palace during the 1930's. I can also remember some rare sci-fi in the early 1950's predating Quatermass. Particularly one featuring a man from Mars. In an all unlikely programme you would expect to find this genre. A children's called Whirligig. Nevertheless the first Quatermass serial did have unbelievable impact. It is difficult to convey in words, but it was penominal.Believe me.
Derwin Mak
I've loved the Quatermass movies and the old Penguin Books scripts of the TV serials. Any chance the live re-make will be shown in Canada? Please put it out on DVD. And please put out the original TV serial Quatermass and the Pit on DVD in North America.
Michael Swann
Why can't things be left alone. It is a sad state of affairs that so many things have to be "re-made". Perhaps if modern television programming wasn't so dumbed down there might be space for new and interesting ideas.
Michael J. Newman
In 1953 I was 10 and The Quatermass Experiment was the first T.V. play shown, which we warched on a 9" black and white television, of which a friend of mine has the cabinet still which he uses for CD's. It was terror of the first degree and the music was fabulous. I used to leap behind the settee many times especially when an actor with his hand full of fungi fell down the steps of an oil tank which scared me to death. Putting it on BBC4 is a pain as I have enough trouble with 5 channels to cope with but when it comes onto BBC1 or BBC2 I hope it dous not clash with Doctor Who. Wagners ring cycle was a tradegy especially Saturday night.
JMO
Please tell us the show won't be interrupted throughout by a couple of pundits like the rest of the TV On Trial week.
Paul W Scott
Great news but will only two hours do it justice? Kneale is a brilliant and underated writer whose themes in the first 3 Qs really reflected their time and also predicted the future. Jason Flemyng is too young, but a good charismatic actor nevertheless. Okay BBC, what about QII?
Ian Jones
I can remember watching the original editions in 1953 and then being mortified to find that I would be on holiday in Wales for the last edition. I don't think television transmissions had started in Wales at that time and I had to wait until the cinema version came out before I could find out how ite ended!
Colin Suter
Congratulations BBC! Keep up the good work of reviving long lost SF Classics from the Fifties. Now make my life complete and revive two other horror serials. Firstly, 'The Trollenberg Terror' and secondly 'The Strange World of Planet X.' Both made into excruciating films that completely lost the flavour and terror of the TV series. I know that they were not BBC prorammes but surely that would be no problem after 50 years?
anna
Hoozah! Yet another programme with the fabulous david Tennant in! Will ther be a repeat soon on a non-digital BBC channel?
stuart lief
It's about time that a remake of the quatermass experiment is in the making. However the fact that this remake is a two hour long feature that one hours worth of the original scripts may be cut out . I believe it'll be made in colour since it'll be recorded live in high definition for a rerun on bbc2, especially since today there is an intolerence towards black and white television which is why so few doctor who episodes for the 60's exist, further despite the trends towards a switch over during the 50's from pre-war definitions (441 line television in europe) to the modern 625 line system the bbc retained the older 405 line system (ccir system A) until 1967 as the standard definition so this show was transmitted almost live in 405 with film inserts telecined for possible location scenes and for the actors to move from one scene to another so the remake will have video inserts for loctation scenes. I suspect the reason for the quality of the pictures is that alley palley still had studieo cameras that were installed in 1936, if you read the restoration team's web article they gave referance to the emitron cameras which is the foundation of my theory.
Ludgateman
Graet news, and something to really look forward to amongst all the "reality" TV tripe peddled all to often by broadcasters. Why not follow with a proper retrospective of Kneale's work ? TV drama as a whole owes Nigel an enormous debt, not just the SF community, a fact that too few people appreciate, including Nigel Kneale himself. He's far to modest about his contribution to the development of drama productions during the early days of BBC TV.
Andrew Howlett
I'm a big Quatermass fan, and I recall being scared almost to death by the repeat screening of 'Pit' in 1960. I've seen the remaining bits of 'Experiment', and I'm concerned that a modern remake may be too slick and not 'raw' enough. Kneale and Cartier knew that fear comes from people - not fancy effects - so please, keep it basic!
Steve
I can still remember cowering behind the settee as the men were trying to cut into the spacecraft. The atmosphere was simply awesome. I doubt that an updated show will be able to have such a frightening effect.Todays viewers have been well immunised by the level of violence and horror which is shown in virtually all sci fi programmes these days.
scott Fraser
Having had poor copies of the first two episodes of the original Quatermass Experiment for years.I think it's a wonderful opportunity to be finally given the chance to see a version of that original tv classic, rather than the terrible Hammer Films adaptation.Truly excellent news, I can hardly wait. Well done.
John Mallows
Stephen Dray - This is going to be recorded in High Definition 1080i for archive and replay on BBC2, so don't worry about the recording this time! I am very excited to be working on such a project, as are the rest of the team!
Stefan Smith
I can't wait for this to come out! Together with the release of the Quatermass Collection DVD and the re-emergence of Doctor Who, this is truly a great year for classic British TV. Btw: This program does not clash with Doctor Who. Dr.Who is on BBC1 at 8:00-8:45pm. Quatermass is on BBC4 at 9:20-11:20pm. Also after it (11:50pm-12:30am) is a documentary on the work of Nigel Kneale ("The Kneale Tapes")
Joseph O'Brien
As a longtime fan of Quatermass and all of Mr. Kneale's writing, this is good news. Unfortunately, I'm in Canada. Here's hoping for a DVD release sometime in the near future. Don't forget about the Professor's non-British fans!
Steve Green
Good to hear Nigel Kneale is involved with the project. He's not the kind of chap who gives his "seal of approval" without serious thought.
Charles Norton
Isn't Jason Flemyng too young to play Quatermass? He should be in at least his late fifties surely.
Johnny Bouy
Please confirm it doesn't clash with Dr Who / Dr Who confidential!
Monkeyboy
I'm enormously excited by the propect of a FAIL SAFE-style restaging of the original scripts as written, but made anxious by the suggestion that the material will be 'adapted and updated' -- Quatermass is a thing very much of its time, and its science and social context are its very fabric. The patriarchal boffin, a London emerging from the shadow of war and standing on the threshold of a new era of technology... treat these core elements as 'up for grabs' and a major TV event becomes a minor exercise.
Big AL
Wow, this is great news. It seems the BBC is finally aware it doesn't need all these American imports but can do it's own sci-fi. 1 question - is this version comin out on DVD?
Gunner
Be Awfully nice if these things ever made it to America where we could enjoy them on BBCA. Be even nicer if BBCA would have a Sci Fi nostalgia time slot so we could enjoy all the good old stuff!!
Jim Linwood
No Inspector Lomax or Miss Wilde (the Katie Johnson character)?
Alan Darlington
2nd April - that's a Saturday, surely it won't clash with Doctor Who?
H.J. Hardeman
Brilliant! Unfortunately I cannot receive BBC Four. Will it be released on DVD in the near future?
Minigiles
As this is being broadcast on the 2nd April. Won't this clash with the broadcast of Doctor Who?
alan french
The original 1953 Quatermass Experiment frightened the living daylights ot of me. However, looking at the script which appeared as a penguin paperback, I found it a most brilliant piece of writing and what's more, the story I found is plausible. Although I can find two problems stemming (If you pardon the expression) from the London Zoo sequence. The original was a milestone not only in science fiction, but also a major breakthrough in television drama. My biggest regret, is I have not got BBC Four. Will it be repeated on BBC One?
Sarah Reed
Good looking cast! I hope they don't change the story too much though...
AndroMan
I'd really like to see it. Will this production eventually be broadcast on BBC2?
Ben
What time does it start so I can record it now in case I forget?
P J Kennard
I only heard about this on Radio 2 this morning on Wogan! Could someone prod him and ensure he points out it's coming to BBC4 and not Radio 4, I trolled their pages for ages before I found this gem. Only one thing left to do Beeb:- Give us Kneale's version of 1984 with Peter Cushing, then the Kneale world will be complete. And thank you to Nigel, he deserves a monument for his work in British Science Fiction.
will smith
will this be in B&W or colour? Regardless, I can't wait!
Adrian Sherlock
At last, one of my fvourite ideas has finally been thought of by someone with the power to make it happen. Long overdue, but what the hey, it will be fantastic to see Quatermass (the inspiration for so many other SF shows, including my own series, Melbourne Community TV's DAMON DARK)back on TV! The horrid 90s are finally over and real quality TV is finally making a comeback! I want to get the DVD of this one! I understand the third, fourth, fifth and sixth parts of the original were not recorded. I hope this time round, we'll have a crisp copy in stores ASAP for people like me to buy and add to their Quatermass collection! All this and a new Dr.Who too! Hooray for good sense and common decency prevailing in the end!
R Devlin
This should be an interesting experiment, but the "up to date" comment worries me. Does this mean it is to be set in near contempary times, or done as a period piece using more modern techniques ?
Frederick Thompson
I was only looking up Quatermass via Google at lunchtime on the day this revival of Quatermass was announced. Later I just searched for "news" and it was the first page up. Cue: genuine astonishment. I haven't been so excited about TV since Andromeda replaced Christine in A for Andromeda, surely an excellent choice for another welcome revival. Could you say if Quatermass will be transmitted in black and white?
David Marsh
I hope that if this is a success, then remakes of the other 2 stories will follow. Well done BBC4!
Adrian Bott
Given that it's a live broadcast, I'm curious to know how they're going to do the creature. I seem to remember the original was a pair of heavily disguised gardening gloves!
David Green
Geat news about Quatermass.But what does live actually mean?Live in the studio or transmitted live?
Cult host adds: It will be transmitted live as it is performed in the studio.
Iain mac Ailean
New series of Doctor Who, DVD release of the surviving Quatermass episodes, remake of The Quatermass Experiment.....have I died and gone to Telefantasy Heaven? If they next announce they've found all Troughton "lost" episodes, I'll get very suspicious.
Sam Loveless
Lovely! But can it compare to the original? And will they do the Quatermass experiment as well so we have a complete version? Please.
Paul Scott
Hard to express my joy and excitement at this news. A veritable classic, brought back in an exciting and innovative way. Who else but the modern BBC would do such a thing!
Stephen Reed
What with this and 'The Quatermass Collection' being released by the BBC in the same month - 2005 is truning out to be quite a year for Quatermass fans, let's hope this one makes it to DVD as well - fingers and toes crossed!!
Ben Gunn
I'd like to see a live recreation of THE ROAD, another Nigel Kneale teleplay from 1964 that is currently lost in the mists of time?
Greg
Interesting news. But will the viewers (Like myself) who don't have BBC 4 get a chance to see this?
Rossa McPhillips
Well done, beeb. Nice idea - the whole 'trial' thing. Quatermass will be great! I wonder who'll pay the intrepid scientist....
Dean Shewring
As a Canadian who never got to see the original series, only The Quatermass Conclusion from the late 1970's, it sounds like a great project. However, I was wondering if you plan to broadcast it as individual episodes like the original, or as one long play? The article doesn't make this clear.
Cult host adds: It will be broadcast as a two hour production across the evening.
Andy Scott
This is great news. Seems to be a resurgance in Science Fiction at the Beeb. This will hopefully show the genre can produce some terrifying and wonderous programmes.
Sasha Simic
Are they doing all six episodes?
Paul Hayes
I first read some rumours of this a few weeks back, and it's fantastic to see it confirmed. Having seen the two existing episodes and read the script book, I can't wait to finally have the chance to see a full TV version of this legendary tale.
Mark Murphy
Great news! But it's hardly 'the first live drama in 20 years'- whatever your feelings on Coronation Street and The Bill, they do count as drama!
Gary Durrant
What a magnificent project.
LEON DRAKE
I doubt if Nigel Kneale made those comments that you quoted as he's been dead for a few years now.
Cult host adds: Happily, you are wrong. Nigel Kneale is alive and well and helping out with the new version.
Dan McKee
First Doctor Who. Now Professor Quatermass. How long until the return of Blake and the Liberator?
Stephen Dray
Sounds like it will be worth a watch - BBC make sure you keep a recording of it this time!!!!!!!
James Hellyer
This promises to be a fascinating accompanyment to the forthcoming DVD release of the survuving episodes of the original series. One question: will this be repeated on terrestrial television for the benefit of those without digital coverage?
Johnny Boy
That's such a great idea. After watching THe Kneale Tapes on BBC 4, I've been telling a freind about his work and how much of it has been lost by the BBC. I suggested that as decent British sci-fi is in such short supply, it would be a good opportunity to remake some of the lost stories.
Thank you for your comments. The BBC reserves the right to modify any messages before appearing on this web page.
---
---