Battlestar DVD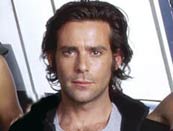 First season of new Galactica released on DVD.
Coming out on 28 March from Universal is a box set featuring all thirteen episodes of the new Battlestar Galactica series.
Thrill again to Ronald D Moore's brave reworking of the 80s hit series, as the survivors of Earth face attack after attack from the dreaded Cylons.
Although we welcome the fact the whole series is being made available, extras are a bit on the disappointing side. All that's on offer are some deleted scenes - and we all know how dull these can be.
---
---