Farscape interview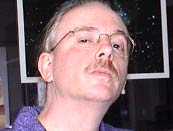 'Scape scribe Ricky Manning will be chatting on BBC Three tonight.
Ricky Manning, the writer of top Farscape episodes like Throne for a Loss, Nerve and Won't Get Fooled Again will be chatting by phone during BBC Three's Destination Three strand tonight.
He'll be on at about 12.10pm, just before this evening's episode, Taking The Stone.
Having interviewed him ourselves, Cult are certain he'll be well worth catching.
---
---