Whedon for Wonder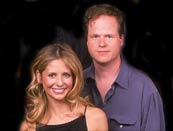 Joss Whedon confirms he is working on the new film.
Buffy creator Joss Whedon is to both write and direct a film of Wonder Woman.
In a statement confirming the rumour, Whedon said, "Wonder Woman is the most iconic female heroine of our time, but in a way, no one has met her yet. What I love most about icons is finding out what's behind them, exploring the price of their power."
"There is a woman behind the legend who is very fascinating, very uncompromising and in her own way almost vulnerable. She's someone who doesn't belong in this world, and since everyone I know feels that way about themselves, the character clicked for me."
There is no news as to who will play the Amazonian princess. A number of actors have been linked to the role, including Kim Bassinger, Sandra Bullock and even Buffy's Sarah Michelle Gellar and Charisma Carpenter.
---
---