Final Hitch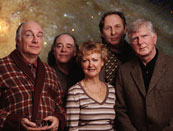 Radio 4 to broadcast final Hitchhiker's series.
The eight-part series, produced by Above the Title, will be broadcast from Tuesday 3rd May at 6.30pm.
Following on from last year's radio smash hit, Life, the Universe and Everything, the original cast - Simon Jones, Geoffrey McGivern, Stephen Moore, Mark Wing-Davey and Susan Sheridan - were again reunited to record the series alongside William Franklyn as the Voice of the Book.
Several actors connected with the Hitchhiker's Guide from its other incarnations, both on stage and television, take lead and supporting roles, including Bill Paterson, Sandra Dickinson, Jonathan Pryce, Rula Lenska and David Dixon.
Supporting stars include Jane Horrocks, Jackie Mason, June Whitfield, Stephen Fry, Arthur Smith, Saeed Jaffrey, Miriam Margolyes and a surprise Hollywood star guest appearanceå
---
---