Fury gets Lost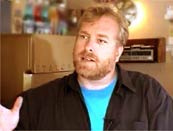 Writer quits island drama to work on Fox projects.
David Fury, best known as a writer/producer on Buffy and Angel, has left his job at hit ABC cult drama Lost.
"I'm very proud of Lost and my contribution to the show, but for numerous personal reasons, I feel like it's time for me to move on to other things," Fury told Sci-Fi Wire. "Lost was a lot of fun... I know the show will continue to be great, and I look forward to viewing it."
Fury will join former colleagues Tim Minear and Jane Espenson for six episodes of Minear's new Fox drama series The Inside, which will debut on the network this autumn.
He'll then head over to CTU to ensure that Jack Bauer will have another very bad day as co-executive producer of the fifth season of 24.
Fury hasn't completely severed his ties with Lost and Alias creator J.J. Abrams, however.
"I've been talking with Bad Robot, J.J.'s company, about possibly developing a show," he revealed. "I would love to develop [something] with J.J., and he would love to develop with me, so we are going to try and make that happen."
---
---