Farscape on Three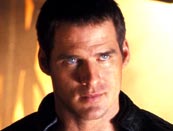 Details of the repeat screenings on BBC Three.
Many of you have been in touch to ask what's happening with the BBC Three run of Farscape.
The channel is now sticking to weekend screenings of the series, continuing this Saturday at 8.15pm with episode seven, PK Tech Girl. This will be followed by episode eight, That Old Black Magic, at the same time on Sunday.
Farscape will then only be screened on Saturdays for the four weeks after that, hopefully with episodes shown in season order.
We hope that clears the matter up.
---
---