Hollywood Hitchhiker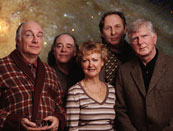 The final Hitchhiker's radio series features a special guest star.
Christian Slater has recorded a part in the final episode of the new radio adaptation of the last two Hitchhiker's books.
Slater plays John Watson, aka Wonko the Sane, a character who lives in an inside-out house.
The series' producers had promised that a "Hollywood heart-throb" would be joining regular cast members Simon Jones, Geoffrey McGivern, Stephen Moore, Mark Wing-Davey and Susan Sheridan.
The final series of The Hitchhiker's Guide To The Galaxy begins on BBC Radio 4 on Tuesday 3 May at 6.30pm.
Meanwhile, the stars of the film version of The Hitchhiker's Guide to the Galaxy are expected to attend the premiere in Leicester Square tonight.
The film opens across the UK on 28 April.
---
---