Extra Picard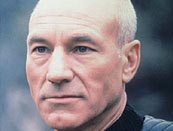 Patrick Stewart to appear in Ricky Gervais' new comedy.
The Office star and creator Ricky Gervais has hired Star Trek star Patrick Stewart to be in his new series Extras.
In the comedy famous faces play twisted versions of themselves.
"In every episode, Ricky finds some way to mock his guest stars by taking the mickey out of their public persona," a spokesperson told The Sun.
"Patrick will be no different. He's a serious Shakespearian actor so that's ripe for the picking.
"Ricky and Stephen have written a script that's got lots of references to all of Patrick's work, from Star Trek to theatre and X Men films."
Stewart's episode replaces one originally written for Jude Law, who was forced to drop out due to work commitments. Amongst those that are appearing are Kate Winslet, Ben Stiller, Samuel L Jackson and Ross Kemp.
Extras will be screened on BBC Two in June.
---
---