Serenity trailer online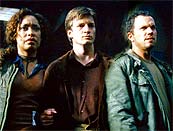 First look at the new Firefly film.
The cult TV show Joss Whedon wouldn't let die is finally heading to the big screen - and the first official trailer for the film has launched.
It's packed with more spaceships than all the Star Wars films put together and impressive martial arts moves that would put Buffy to shame.
---
---