Hitchhiker's exhibition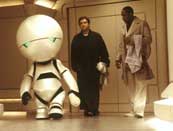 New Hitchhiker's exhibition comes to the Science Museum
The Hitchhiker's Guide to the Galaxy Exhibition opens at the Science Museum on 28 May 2005.
It will recreate the fantastic voyage of Arthur Dent, and along the way take a look at some of the science which shapes our life, the universe and everything. Sets, props and footage form the new film will all be on display.
"Of all the things that we are doing in addition to actually, finally, making the movie, I think that the idea of an exhibition about Hitchhiker's at the Science Museum would have pleased Douglas enormously. He loved the company of scientists!" said Robbie Stamp, Executive Producer of the film and the Science Museum exhibition.
---
---