Blake's 7 three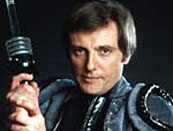 Details of the third season box set.
Out on 20 June is a five-disc set comprising all thirteen episodes of season three, which sees Avon take charge and Dayna and Tarrant join.
Extras include:
Stuart's Stunts
Blake's Bloopers
Easter eggs
Commentary on three episodes
Series three clean titles
Shelagh's make up memories
Character introductions (Tarrant and Dayna)
Nationwide: Look North (31 July 1979)
Casting Tarrant (screen tests)
Trailer for series four
Still no sign of the specially made documentaries though.
A limited edition version will include a Corgi Liberator model - which we're very excited about.
---
---