A date with Galactica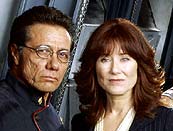 Screening plans for Season two announced.
The US Sci Fi Channel will premiere the second season of Battlestar Galactica on 15 July 2005 and, unlike season one, they'll be screening it ahead of the UK.
"We will air season two of Battlestar Galactica in October, so the US goes first this time around," our Sky contact revealed earlier today.
Galactica will join Stargate: SG1 and Stargate: Atlantis for a cult-tastic Friday night line-up on Sci Fi. It's Atlantis's second season, and a staggering ninth for SG1.
After premiering in the UK in late 2004, Battlestar Galactica won Sci Fi some of its best ever reviews and eclipsed Stargate's ratings, averaging more than three million viewers per episode.
As well as the first UK screening of Galactica, Sky's autumn line-up should include more fantasy TV in the form of a second season of spooky supernatural series Hex.
---
---