Serenity comic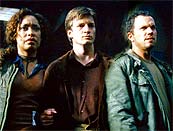 Comic will bridge gap between Firefly and feature film.
Speaking to Sci Fi Wire, Joss Whedon said that he has written a prequel comic to Serenity, featuring a storyline that was originally ear-marked for an animated series.
"We had talked about doing an animated Serenity prequel, because Universal was into that," he said.
"Brett Matthews [Whedon's comic co-writer] and I worked on a story, and then Universal decided not to go ahead with the project. We thought, 'Well, we have exactly the story we want to tell, and it's almost like a prequel to the Serenity movie.' And so we said, 'Comics might be the place to tell this story.'"
The Serenity features a heist that doesn't go to plan and Captain. Malcolm Reynolds getting embroiled in a conspiracy.
The three-part comic features art by Will Conrad and Laura Martin and will be released by Dark Horse on 6 July.
---
---