Charisma's Comic Con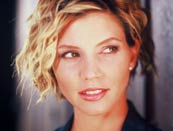 Angel star joines guest list for London event.
Charisma Carpenter will be making a rare UK appearance at this year's London Film and Com Con.
The event, which will be held at Earls Court Two for the first time, will feature signing sessions, talks and a ton of Cult merchandise and collectibles.
Joining Charisma will be Star Trek: Voyager's Kate Mulgrew and Robert Beltran, 24's Sarah Clarke and Xander Berkeley, Battlestar Galactica's Grace Park, Farscape's Wayne Pygram and Daisy Duke herself - Catherine Bach.
There's a treat for Blake's Seven fans too, with a cast reunion to promote the release of Season Three on DVD. Gareth Thomas (Blake), Paul Darrow (Avon), Michael Keating (Vila), Jacqueline Pearce (Servalan) and Peter Tuddenham (Orac and Zen) will all be at the event.
The London Film and Com Con takes place on 25 and 26 June 2005.
---
---