First 24 Hours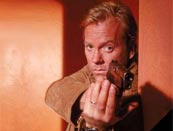 BBC One are to repeat the first season of 24.
Starting on 10 June, after Jonathan Ross, BBC One will be screening the hit series on Fridays, showiing two episodes back-to-back.
See how Jack Bauer had his first worst day, in a plot involving an attempt to assassinate a Presidential candidate, comical amnesia, and Dennis Hopper escaping from prison.
---
---