Chekov short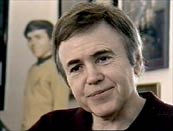 Walter Koenig to star in short film about Trek's Ensign Chekov.
Koenig told fans at the Enigma Con that the internet download will offer closure to the original series character.
"This is a unique opportunity to give some dimension to my character," Koenig said. "I was most unhappy ... that there wasn't a whole lot of dimension to the character. It was push buttons and say 'Warp factor five' with as many inflections as possible - and with an accent."
The short will feature another actor as Chekov. "He will play me in my younger days, and I'll play the character as older, of course," Koenig said. "It will be a real gut-wrencher. If I perform properly, it will work."
Original series writer D.C. Fontana is onboard to write the script, and the project has the blessing of Paramount, who have given permission on the basis it will be non-profit making.
"It is cathartic for me and an opportunity to reveal to the audience and the fans who this man is," Koenig added.
"I'm doing it for fun and a sense of closure. It vindicates something about myself."
---
---