Galactica 2 Spoilers.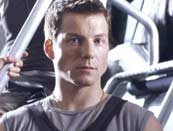 News of the second season of Battlestar Galactica
Talking to Sci Fi Wire at EnigmaCon, creator and executive producer Ronald D. Moore spoke candidly about the up-coming season two of the hit series.
"Yes, there are a couple of familiar faces that will go down for the count. Adama's shot. There's people stranded on Kobol. Kara's back on Caprica. Those storylines continue. Adama is not back on his feet anytime soon. Commander Tigh is in charge of Galactica. Laura is in jail. There's a meteor crisis that follows the cliffhanger, and Tigh kind of steers them through that crisis successfully."
Moore revealed one major plot strand that develops during season two.
"Things begin to unravel when [Tigh's] in charge of the fleet. He declares martial law at a certain point. There is an incident where he sends the troops to get supplies, because the ships are withholding supplies from Galactica. He says enough is enough, and an incident happens, and ... they shoot a bunch of civilians.
"It's a whole nightmare, and Laura starts an insurrection and the fleet divides. There's a lot of fallout from the events of the last season."
Battlestar Galactica returns on the US Sci Fi Channel on 15 July and in October on Sky One.
---
---