Angel anthologies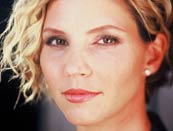 Four DVDs featuring four favourite characters.
Out on 8 August are four DVDs that showscase four of your favourite characters from Angel.
The four titles, devoted to Cordelia, Wesley, Gunn and Fred, feature their best episodes - hand-picked by creator Joss Whedon.
Here's what episodes Whedon has chosen:
- Cordelia: City Of, There's No Place Like Plrtz Glrb, Birthday, Waiting In The Wings
- Wesley: Parting Gifts, Guise Will Be Guise, Loyalty, Sleep Tight
- Gunn: Warzone, First Impressions, That Old Gang Of Mine, Double or Nothing
- Fred: Over The Rainbow, Fredless, Supersymmetry, Shiny Happy People
The DVDs also feature a profile of the characters.
---
---