Buffy in Wonderland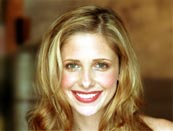 New film role for Sarah Michelle Gellar.
Former Buffy star Sarah Michelle Gellar is set to star in a big screen adaptation of Alice In Wonderland.
"Alice" is based on a computer game version of the story in which the lead character destroys enemies with croquet mallets. Not so different from wooden stakes then...
In the best-selling game, Alice is a young woman consigned to psychiatric care following the death of her parents.
She journeys to Wonderland - a threatening place where she must battle to stay alive.
The film will be directed by Marcus Nispel, responsible for the recent remake of the Texas Chainsaw Massacre.
---
---