Teesside was thrust into the age of the 'white heat of technology' when the chemical industry experienced rapid growth in the post war period.

The towns of Billingham and Wilton have become synonymous with the chemical industry which dominates their landscapes.

Billingham - From Village to Chemical Town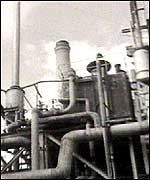 Chemicals dramatically transformed Teesside
Billingham was a village with a few small-scale industries in the 19th century. But it was the First World War that spurred its growth and development into one of Britain's biggest centres for the chemical industry.
The War led to a heavy demand for the production of nitrates needed in the manufacture of explosives.
In 1917 Billingham was chosen as the site for the production of synthetic ammonia to be used in the manufacture of explosives.
A site of several hundred acres at Grange Farm in Billingham was picked to be the site of the new chemical works.
The First World War ended before the Billingham Chemical plant could be completed, and the new works were taken over by Brunner Mond in 1920.
The new company adapted the production of synthetic ammonia to the manufacture of fertilisers.
In 1926 Brunner Mond and Britain's other major chemical manufacturers merged to form Imperial Chemical Industries Ltd (ICI).
This spurred on the further development of Billingham, and by 1932 the works employed 5,000 workers out of a population of 18,000.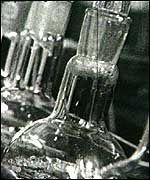 Chemical processes underway
Billingham had more than doubled in size since the 1920s, and was now a major chemical centre.
With the outbreak of the Second World War there was renewed demand for the production of synthetic ammonia for explosives at Billingham.
The plant also became heavily involved in the production of high performance aviation fuel for RAF aircraft.
From 1934 Billingham became a centre for plastics production, and many of the products were used during the Second World War in the construction of aircraft cockpits.
Billingham also became a centre for top secret wartime work relating to the development of atomic bombs. This work was given the code name `tube alloys'.
Wilton - Showpiece of Industrial Britain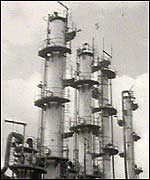 Chemical plant on Teesside
The development of the major complex at Wilton was a massive boost to Teesside's chemical industry in the 1940s.
ICI bought the land upon which the Wilton site was to be built in late 1945, and construction work took place between 1946 to 1949.
The Wilton site was officially opened on 14th September 1949 by the then ICI Chairman, Lord McGowan.
Wilton was very much at the forefront of the new chemical industry in Britain.
The monster plant generated headlines like 'Wilton blazes the trail' and 'Wilton - Industry's Spearhead' in the newspapers.
Even today Wilton continues to be one of the major chemical producers in the country.