A Nation on Film Special

After World War Two, the Government paid film-makers to produce work that would persuade people to use public transport.
Some critics called their productions expensive propaganda, but the British Transport Films unit (BTF) produced some of our finest post-war documentaries.

The filmmakers were young, talented and ambitious - they were striving for success in the film industry.
Their films weren't just about public transport - they captured a picture of post-war Britain when the age of steam was still near its height.
Picture of Britain

The head of the unit was Edgar Anstey, a leading figure in the British documentary movement.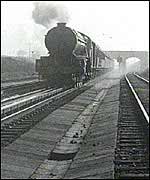 The films captured the joys of rail travel
Anstey and his team were creative with their brief - making high-quality documentaries, commercials, travelogues and natural history films.
Many of the films were shown as 'shorts' in the cinema.
The films captured images of life in post-war Britain - sometimes transport was given only a brief mention.
They often highlighted beautiful locations, and since most people didn't have cars, the only way you could get there was by using public transport.
Eventually the unit won an Oscar for a natural history film, and several members of the team progressed to great success in the feature film industry.
They included including Billy Williams, a camera assistant, who went on to become an Oscar-winning cinematographer.
Celebrating modern railways

In many respects the films were about PR and spin, rather than being pure documentaries.
In the BTF's vision of Britain there was little room, for example, for stories about over-crowded trains and dirty old towns.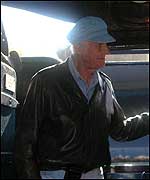 On the footplate - Billy Williams
They would go to great lengths to make locations look as attractive as possible - which often involved waiting for the sun to shine.
When it came to a story about the end of the tram there was trouble in the unit.

Some thought it was an important historical moment to capture on film, but Anstey was not happy as it didn't fit with his vision of celebrating a 'modern' public transport system.

Also, when it came to the Beeching cuts, the unit followed their paymasters and produced a film entitled 'Reshaping British Railways'.
Classic journeys

Nation on Film talks to some of the filmmakers who worked for the unit and tells their story - from the unit's creation to their Oscar-winning success.

Following Nation on Film viewers have a chance to watch one of the unit's classics in its original form.
'Elizabethan Express' follows the summertime express from Kings Cross, London, to Waverley Station, Edinburgh.

The film, made in 1954, celebrates the glamour of steam, and became popular because of its stunning images and use of rhyming commentary.