In the Blood
Allan Richardson was born into a railway family - three generations of his forefathers worked on the railways.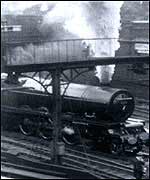 The golden age of steam
His grandfather started working on the railways in 1893, whilst his father took to the rails in 1918.
Allan Richardson followed in their footsteps, starting work at Grantham in 1937.
Allan's first job was as the office boy in the Grantham locomotive shed.
He remembers the early days of the railway offices being very Dickensian.
"The loco superintendent was one step down from God," he recalls.
A Dirty Job
In 1940 Allan Richardson came out of the office and started work as an engine cleaner. He remembers the job as being very messy.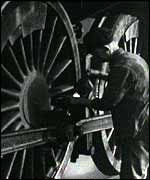 It was a dirty but fulfilling job
"It was very very dirty with oil and grease from the engines."
"Sometimes you got a messy job with suicides - even cattle. You'd have to clean them from the underside of carriages."
"You worked in a team, and you got 20 hours with five of you allocated. The senior one did the boiler and tank, the junior one did the dirtier jobs."
"They were really dirty. You were soaked in rags of paraffin from rubbing the engine down."
"Imagine having an Aladdin's lamp, or an oil lamp with a wick that you fill with paraffin. You lit it and there you were under the engine - it was smokey and dirty."
"You were absolutely filthy. Apart from doing the cleaning, there was also larking around, throwing rags at one other."
A Tough Winter
1947 was one of the most severe Winters in living memory, and it caused chaos on the railways.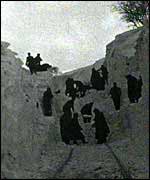 Heavy snow was a hazard
Allan Richardson recalls how the men toiled to keep the railways open.
"It was snowing - snow, snow, snow - terrible. We set off, did our job, got to Peterborough and they sent us back."
"A train was stuck in the drift. I jumped off the train and there was snow up to my waist. Bob (his workmate) said 'If I ever see the sun again, I'll never believe it!"
The conditions were so bad that three coal trains were stuck in the drifts for six weeks.
The Joy of Steam
Working on the railways did have its advantages like driving a steam train in good weather.
"There's really no feeling like driving a steam engine. It's entirely up to you. It's a physical thing - you're using every sense, sight, sound, touch, smell. It's a marvellous feeling."
But it came at a price - being a driver could be hot and demanding work.
"It was very uncomfortable. You were hanging out of one side and being roasted by the other - an odd sensation."
Diesel Dreams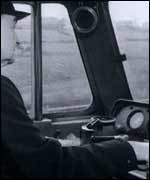 Just press and go - the joy of diesel
The transition from steam to diesel marked a major turning point in the history of the railways.
"It was marvellous to be honest," says Allan. ""You couldn't get away from steam quick enough."
"Imagine getting up at 2 or 3 am and going to a smoke-filled shed with one hour to get your engine ready."
All of a sudden it was transformed to a set of keys, press a button, start the engine and you're away."
Nationalisation
Many of the railway workers were optimistic about nationalisation, believing it would improve prospects for the rail industry.
"Everybody was full of hope. We were downhearted that the railways were ground down during the war. There was no investment."
"We were all elated and overjoyed. We were going to get the engines we wanted, it was going to be different," says Allan.
But those high hopes were to be smashed by events that followed.
End of an Era
Allan Richardson remembers the post-nationalisation years.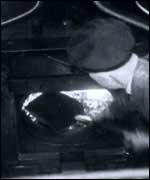 Stoking up trouble - changes post-nationalisation weren't always welcome
"It was sad, really sad - the way the railways we're carved up. It was scandalous. We all thought that there would be more investment."
It was the beginning of the end for Allan.
"The atmosphere in the 1970s was terrible. It was not a nice time at all."
"I finish in 1986. Since then it's been broken up too small. The fragmentation has been terrific and horrific. I would like to see it as it was before."
Allan is nostalgic about the days when the passengers would come and say 'thanks' when you ran into King's Cross.
In later years Allan believes that working on the railways lost that special feeling, and the feeling of job satisfaction.
It was the end of an era in railway history.