The Grainger Market
The Grainger Market in Newcastle is a North East institution. It opened in 1835 after an opening ceremony attended by over 2,000 people.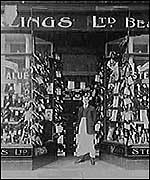 Typical shop
The market boasted 243 shops including numerous butchers and vegetable stalls, and 14 entrances
The Grainger Market is one of the only remaining the 19th century covered markets still trading as a market. Today it employs 800 people and boasts 200,000 shoppers every week.
The Grainger Market was built by Richard Grainger and architect John Dobson in 1835. It revolutionised shopping in its day. When it opened it was the largest indoor market in the world.
The market was laid out in a grid-iron pattern with 156 butchers shops and an arcade selling fruit and vegetables.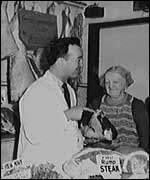 Butcher stall
Even today the Grainger Market has managed to keep some of its original features. There has been a weigh house since the market was built to weigh hunks of meat.
Today it's the shoppers who queue up to be weighed.
The market also still has an air raid shelter underneath the length of the arcade.
The Grainger Market has survived fires, two world wars and threatened demolition, and is about to undergo another transformation with improvements to bring it into the 21st century.
The Quayside Market
Newcastle's Quayside Market is one of the largest Sunday Markets in England, attracting up to 100,000 people every week.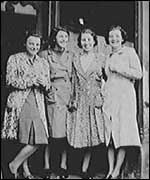 Shop assistants
The market is every bit as popular today as it used to be in the last century when you could pick up a bargain, see a side show or even watch an orator or escapologist.
The Quayside Market has a long history dating back to 1736 when it was first recorded in historic records as a fair.
The original Quayside market stretched from the old Tyne Bridge (near the site of the current Swing Bridge) along Sandgate and beyond.
Commercial stalls selling every manner of goods were pitched along the riverside with a variety of fairground attractions and racing tipsters providing added entertainment.
The market continues to this day and you can still grab everything from a cheap suit to a pair of trainers or a set of crockery.
Credits
Photographs care of the Beamish North of England Open Air Museum Photographic Archive.