But like other heavy industries in the North, the steel industry went into a terminal decline in the late 1970s and 80s.

Closures led to massive job losses at plants such as Consett in County Durham and Redcar in Teesside.
Consett - Steel Town
For decades the name Consett was synonymous with iron and steel. Consett was the town that made the steel for Blackpool Tower and Britain's most famous nuclear submarines.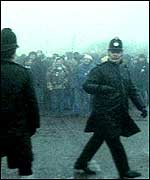 Demonstrations to save Consett were to come to nothing
The town of Consett originally grew up around a cluster of small villages, and developed its steel industry due to its proximity to the Durham coalfields and local iron ore.
However the latter was soon exhausted.
The Consett Iron Company was established in 1840 by a small group of entrepreneurs who introduced the first blast furnaces.
Over the next 100 years, the town became one of the world's leading steel making towns.
Steel dominated Consett visually in terms of its landscape, the town becoming renowned for the pall of red dust that hung over it. The dust was actually airborne iron oxide from the steel making plant.
The Consett steel works provided jobs for 6,000 workers at its peak in the 1960s. But there was intense competition In the 1970s from both local competitors on Teesside and from abroad.
Moves to close Consett came in the 1970s, despite heated debates about the future of the plant.
In 1980 the death knell sounded for the steel furnaces, and the Consett works closed with the loss of 3,700 jobs. It was a devastating blow to the town, not least because the unemployment rate in Consett was double the national average at 15%.
The town became one of the worst unemployment blackspots in Britain, and the demolition of the works led to a massive hole in the heart of the town.
Teesside Steel
Teesside's steel industry dates back to the 1850s when iron ore was discovered in the Cleveland Hills near Eston. As a result of the discovery, iron gradually replaced coal as the lifeblood of the area.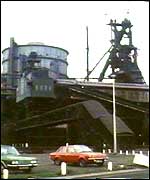 Teesside's steel plants once employed thousands
Teesside underwent a massive period of growth. In its heyday, the steelworks employed more than 40,000 people.
The steelworks were nationalised in 1967 and became the British Steel Corporation. Resources were concentrated into one blast furnace at Redcar.
But competition from the US and Japan meant that it was not long before the first redundancies were made.
The corporation became British Steel in 1988, and, in 1999, it merged with Dutch company Hoogevens to become Corus. Hundreds of workers took voluntary redundancy or early retirement, while thousands more were made redundant over the years.
Now, just one blast furnace at Redcar produces more than 3.5m tonnes and there are just 3,200 employees left.