A Nation on Film takes a closer look at the textile industry in England's North West.
From the later half of the 18th Century, Britain's industries began to move out of the fields and into the factories as the Industrial revolution ground into motion.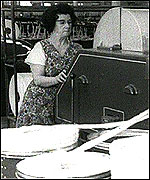 Factory working became the norm
Britain's empire was supplying a steady stream of raw materials.
The British transport system was also developing dramatically with the improvement of roads, an extensive canal network, and later - with the invention of steam power - the railway.
Steam power not only helped revolutionise the transport system, but inventions too.
Steam driven machines replaced jobs traditionally performed by hand.
The cotton industry was one of the first of Britain's industries to seize upon the opportunities afforded it by the industrial revolution.
A family business
Before 1760 and the birth and growth of the factory system, the textile industry was confined to the home.
Known as the 'Domestic System', families were responsible for every stage of the process turning raw cotton to fabric.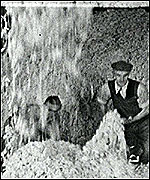 Cotton kings - producing the white stuff
The process was revolutionised as work moved out of the home and into factories.
Workers who had traditionally been involved at every stage of the process, now worked in one area of production, many overseeing machines, rather than working by hand.
Manchester and surrounding towns already had a tradition of small textile workshops in addition to the countless cottages producing yarn and cloth, providing factories with an established network of ready labour and skilled textile workers.
From a cottage industry, the cotton industry rapidly became dominated by huge factories and Lancashire found itself at the centre of the world's cotton trade.
King of cotton
Cotton mills and warehouses were built in Nottingham, Derbyshire and also in Bristol, Liverpool, Glasgow and London. But it was Lancashire that quickly dominated the industry.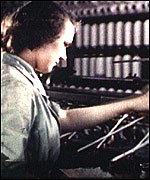 Wet wet wet - the damp Lancashire climate was ideal for cotton mills
Lancashire's damp climate (some may call rainy!) was perfect for maintaining the moisture in fine cotton yarns, whilst the abundant supply of water via rivers in Pennine towns and cities drove water-powered mills.
Twenty-nine of the 35 steam driven engines later acquired by cotton businesses were installed in Lancashire.
By the end of the 19th century, Lancashire mills accounted for one quarter of Britain's entire export trade.
The North West's cotton industry was booming and reached its peak in 1912 when the combined output of the British industry reached eight billion yards of cloth.
But in a few short years, events would change the cotton industry and the world, forever.