WEDNESDAY
15th August 2007

| | |
| --- | --- |
| | meet the ultimate political animal... |
Not since King Kong shook his fist at the world has an animated animal held such power.
He's the ultimate political animal - and he's ready to bite politicians of every stripe.
He's the On The Record Crocodile!
Based on a House of Commons gargoyle (so the story goes) and fashioned from from plastic, glue and leather, The Croc burst onto the world stage in 1988 when On The Record was launched.
The original titles, designed by Tim Goodchild, featured The Croc stamping around the United Kingdom.
Stop-frame animation (the same technique used to make Wallace and Gromit) was used to bring him to life by animators Joan Ashworth, Andy Staveley and Martin Graves at "3 Peach".


The Original Gargoyle?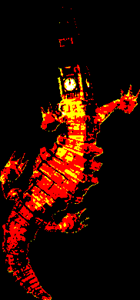 he's ready to bite...


The current title sequence was designed in 1993 by Stephanie McHugh and Dimitri Kevgas from BBC News Resources Graphic Design. Now the Croc got the chance to roar at the world! Models were made of famous world monuments and The Croc makes them tremble as he passes.
How many can you spot in the real titles?


various scenes from the storyboard
| | |
| --- | --- |
| The Croc has proved so popular that he has been on a real life tour of the UK as the star of a show about animation. He now resides in the On The Record Office where he reclines on a bed of purple velvet inside a glass case. | |