Labour's Campaign
Background

Tony Blair, on the first day of the election campaign
Labour went into the 1997 election campaign determined to avoid a fifth consecutive general election defeat. Everything possible was done to preserve the party's massive lead in the polls and nothing was left to chance.
When journalists complained that Labour's campaign seemed dull one party worker replied, "It would be foolish to do anything else when you are 5-0 up. You are not going to go out and do something stupid. You are not going to out and score more goals. You defend your lead."
Old and unpopular policies had been stripped away in the years since Labour's defeat in 1992. The party's ideas and image were revamped to present the voters what deputy leader John Prescott described as "traditional values in a modern setting."

Peter Mandelson, Labour's campaign manager

New offices were set up in Millbank Towers, next to Parliament, well before the election kicked off, giving journalists easier access to Labour officials. The new campaign centre was equipped with a computer system costing £500,000. Labour's campaign manager, Peter Mandelson, was now at the head of a sophisticated and professional election machine.

To counter Tory attacks on Labour policies, Tony Blair's team followed US President Clinton's lead by setting up a 'rapid rebuttal unit'.
Since 1992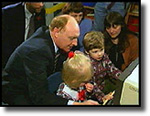 Neil Kinnock resigned as Labour leader after his second general election defeat

In effect, Labour had been campaigning to win the 1997 election since John Major's surprise election victory in 1992. Neil Kinnock was replaced as party leader by John Smith, the then shadow chancellor. Under Mr Smith the process of renewing the Labour party began.

Before his untimely death in May 1994, Mr Smith had succeeded in introducing One Member One Vote (OMOV), thus reducing the influence of the unions on both the party conference and the selection of parliamentary candidates.

Tony Blair, the shadow home secretary, became leader on Mr Smith's death and immediately stepped up the pace of change. It soon became Mr Blair's "project" to modernise and reform the party in time for the next general election.
The Rolling Campaign

Tony Blair, elected Labour's new leader in 1994

By the time Labour issued its draft manifesto in July 1996, Tony Blair had scrapped Clause IV of the party's constitution, ditching its historic commitment to nationalisation. New Labour was up and running.

The Labour leader was dropping, one by one, the controversial policies with which the Conservatives had so successfully attacked Labour since 1979.

Mr Blair pledged to keep grammar schools, there would no major renationalisation, Labours links with the trade unions had been weakened and New Labour had wholeheartedly embraced the market economy.

The nation was now aware of what Labour would not return to, but was much less clear on what Labour stood for - hence the draft manifesto.

In July of 1996 the draft manifesto was launched, under the slogan 'New Labour, New Life for Britain'. After polling the party's membership, Labour issued five early pledges:

reduction of class sizes
fast track punishment for young offenders
reduction of NHS waiting lists
proposals to take 250,000 young people of benefit and into employment
a commitment to low inflation
The Poster War

Gordon Brown, Labour's "Iron Chancellor"

Brown attacks the Tories on tax
By the summer of 1996, Labour and the Conservatives were involved in heated political warfare fought out on billboards the length and breadth of the land.
In August, the Conservatives launched the attention-grabbing but negative campaign poster "New Labour New Danger", which showed Tony Blair with glowing demon red eyes. Labour countered with the allegation that the Tories intended to put VAT on food.
Perhaps Labour's key move before the beginning of the election campaign proper was the statement by the Shadow Chancellor, Gordon Brown, that Labour would not raise income tax.
At a stroke Labour had defused the "tax bombshell" that the Tories had used to blow Labour's 1992 campaign out of the water.

Ben Chapman wins in the Wirral

As John Major's majority shrunk lower and lower during the winter and spring of 1997, Mr Blair pledged "to bring down the government any way we can."

In the event, the government avoided defeat on a censure motion called on its handling of the BSE crisis. Ten days later, on February 27, the Government lost the last by-election before the general election.

Wirral South, normally a safe Tory seat, fell to Labour on a swing of 17.2%, giving Labour a substantial majority. The swing was greater than the party dared hope for. It seemed to give credence to the opinion polls, which had given Labour a massive lead over the Conservatives since September 1992. When John Major fired the starting gun, Labour was well over 20 points clear of the Conservatives.
The Six Week Campaign
Labour's final assault on Downing Street was ultra-cautious. With Labour apparently on target for a landslide, party workers adopted a "sit-tight and shut-up policy".

Roy Jenkins, the former Labour Cabinet Minister, compared Tony Blair's task in holding onto this lead as being similar to walking down a shiny corridor holding a very precious vase. One slip and it's gone.

Despite Tory claims mid-way through the campaign that Tony Blair was "cracking up" Labour only had one serious 'wobble' during the election. In week three, Labour's commitment to give workers the right to union representation where 50% of the workforce desired membership was painted, by the Conservatives, as a return to the dark days of the 1970s.

For a day or two Labour appeared unsure of how to deal with attacks which seemed to be striking a cord with voters. But the situation was quickly retrieved when Labour began attacking Conservative disunity over Europe.

By and large Labour's election team remained 'on-message', and was greatly helped in its efforts to dodge Tory attacks by Gordon Brown's early destruction of taxation as an election issue.

Signs that the tide was flowing firmly in Labour's favour came almost immediately after the Prime Minister called the election. The Sun newspaper turned its back on the Tories and came out for Blair.

Its sister paper, the News of the World soon followed. Now Britain's biggest selling daily and the biggest selling Sunday paper were both in Labour's camp. By carefully courting the paper's owner, Rupert Murdoch, over the preceeding 18 months Tony Blair had succeeded in reversing the Tories traditional domination of the press.
Key Seats
To win the election Labour needed to target its resources effectively. Ninety key marginal seats were chosen by party strategists to receive the focus of Labour's attention. These were all seats which would fall to Labour on an 8% swing from the Tories. If Labour convinced enough voters to switch in these target seats, it would be handed a safe working majority.
Voters in these mainly 'middle-English' seats were bombarded with direct mail, canvassers (both in person and by phone), and some were even sent Labour videos in which Tony Blair set out his vision for a new Britain.
Labour's plan was to win over those who are known as "switchers" - previous Tory voters who were disillusioned with the Government, but who were still unsure whether they could trust New Labour.
Much of the party's ground work had already been done in the years and months before the election, but Tony Blair never tired of telling voters New Labour would "govern from the centre" and that "the old tax and spend days are over".
The moment the election race was called Tony Blair was out campaigning in Gloucester, one of the key seats. On day one of the campaign the Labour leader set out the reasons for his cautious approach. "I prefer to promise a limited number of things and get them done rather than promise the earth and not deliver," he said.

John Prescott, Labour's "Mr Motivator"

Meanwhile John Prescott, dubbed Labour's "Mr Motivator" by Tony Blair, was sent out on the 'Prescott Express', a huge coach that doubled as a campaign headquarters. During the campaign the deputy leader was set to cover 10,000 miles and visit 65 key marginals.

The first two weeks of the campaign proved largely insubstantial and were dominated by sleaze and the inability of Labour, the Conservatives and Liberal Democrats to agree on a formula for a leadership debate.

Tony Blair's seeming unwillingness to engage in a head to head debate with John Major saw him labelled a "chicken" by the prime minister. To press the message, Tory Central Office employed a man in a chicken suit to follow Mr Blair.

The Tory chicken unleashed a menagerie of publicity stunts the like of which the British electorate had never seen before. By the end of this brief interlude, headless chickens, foxes, teddy bears and even a rhinoceros had all made a brief appearance on the political stage. Although exactly what causes they were trying to promote still remains unclear.
Britain Deserves Better

Labour's manifesto message

The launch of the manifestos saw the end of the campaign's silly season. The Conservatives went first, leading with new pension proposals and tax breaks for married couples. The Labour manifesto, New Labour Because Britain Deserves Better , was launched the following day and contained few surprises.

Labour's proposals were meant to be, as Tony Blair said, "mainstream, costed and sensible."

"We make a virtue of the fact that our manifesto does not promise the earth. It does not say it can do everything. There are no magic wands or instant solutions. What we do say is that Britain can be better, that Britain deserves better," he stated.

Mr Blair unveiled a ten-point contract with the British people which had at its heart a pledge to improve education.
Devolution

Blair unnveils the manifesto
The Labour manifesto also set out Labour's plans to grant devolution for Scotland and set up a Welsh assembly. With both Labour and the Conservatives close together on many issues, it was over constitutional matters that they differed the most.
The Conservatives laid into Labour's proposals hard, warning voters that Labour's plans would mean the end of the Union. They also attacked Labour's decision to give a Scottish Parliament tax-varying powers. This, they said, would saddle the Scottish people with a "tartan tax."
Labour denied its proposals would mean greater tax bills north of the border, saying: "The existence of a power doesn't mean you have to use it."
Tony Blair committed an own goal when he attempted to defuse the situation by comparing a Scottish parliament's tax powers with those of an English parish council, a remark which greatly offended Scottish nationalists.
The manifesto launch was soon followed by a party election broadcast in which Labour unleashed its newest convert, Fitz the bulldog. With the Conservatives becoming increasingly Euro-sceptic during the campaign, Labour hoped to avoid charges made by the Prime Minister that Tony Blair had "his foot on the accelerator" to a federal Europe, by portraying Labour as a patriotic "one-nation" party with the British bulldog as it new symbol.
The broadcast, however, caused offence among Britain's black and Asian community. Labour, they said, had adopted the symbol of the racist British National Party, and Fitz was soon dropped.
Labour, however, did echo the Conservatives Euro-scepticism. Writing in the newly converted Sun on St George's Day, Tony Blair said Labour would have "no truck with a European superstate."
Despite all the bulldogs and flag-waving, Labour was still under fire for delivering a passionless campaign. Mr Blair responded quickly to these charges and made clear his determination to grab the campaign "by the scruff of the neck."
"To those who say where is Labour's passion for social justice. I say education is social justice." Mr Blair underlined his determination to focus on education once in office. This was despite Tory jibes that the Labour leader's children attended grant maintained schools, even though Labour's official policy was to end their special status.
It's Not Over Till Its Over

Tony Blair winds up Labour's campaign

As the campaign entered its final fortnight, Labour lowered the tone. Mr Blair's team had decided the best way to combat the real danger of voter apathy, brought about by the long campaign and the widespread conviction that Labour was on-line for a landslide, was to frighten voters with what they claimed a fifth Tory term would mean.

In a move similar to the allegation that the Conservatives would place VAT on food, Tony Blair claimed that another term for Major would see the end of the National Health Service and the end of state pensions.

Blair: NHS under threat
In its most negative election broadcast of the campaign, Labour asked the voters to " imagine what the Tories would do with another five years."
"If they were given another five years they'd do as the please...No-one would be safe and no-one could stop them."
The dark tone of the broadcast was contrasted with a series of positive posters telling voters "waiting lists would be down", "class sizes will be smaller", "income tax will not rise".

"24 hours to save Britain"
Just days before polling day, a Guardian/ICM poll showed a huge dip in Labour's lead. Labour's nightmare that a long campaign would, in Tony Blair's phrase, drive the voters "absolutely crazy", encourage a low turn-out and thus deprive Labour of a majority, forced the Labour campaign to repeat constantly the mantra that there was no room for complacency.

Blair warns against complacency

Tony and Cherie Blair celebrate
In the event, Labour need not have worried. The party did not blow its place in history, and at the end of a cautious campaign bereft of gaffes, turning points or passion, Labour was returned to office with the biggest majority in its history. Tony Blair was given the opportunity he had asked for to serve his country.
Peter Mandelson, Labour's campaign manager, was obviously relieved that Labour had at last ended its 18 years out of office. He could also take some family pride in the fact that his grandfather, Herbert Morrison, had a hand in Labour's watershed landslide victory in 1945.
Whether or not Labour was returned to office because of a genuine popular feeling for New Labour, as he claimed, or as a result of disaffection with the Tories, remains to be seen.