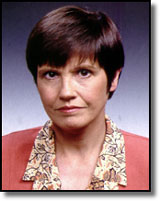 Elizabeth Blunt
Elizabeth Blunt Remembers Diana
"It was in March 1990, at quite the hottest time of year on the West African coast, that I and two colleagues - Africa correspondents of Reuters and The Daily Telegraph - were told to take a break from covering coups d'etat and rural development programmes, and get ourselves to Lagos to cover Prince Charles and Princess Diana's African tour.

"My memories of that first day are still vivid. One was certainly the Princess herself; as we struggled and sweated and argued with the ever present Nigerian security men, she appeared every bit as lovely as in the photographs, in a wonderfully cool, mint green, rather nineteen-thirties dress.

"The other was the moment when I first saw the royal press corps, spilling off the bus, most of them were clutching aluminium step ladders.

"The West African tour was officially meant to be for Prince Charles, as future head of the Commonwealth, to get to know the region; in reality it was very much more about getting the right kind of coverage in the British press.

"Looking back, this was a low point in the royal couple's popularity; the glamour and novelty of their marriage had worn off; the problems in their relationship had not yet become public; the palace press office was keen to revive flagging public interest in the future King and Queen.

"The chosen solution was a punishing round of activities which took them to every corner of Nigeria and Cameroon; Prince Charles opened a British Council Library, walked in the rain forest, and greeted war veterans in a tropical botanic garden.

"Princess Diana visited children's hospitals, traditional hand loom weavers and women's development projects. And wherever Diana went, the royal press pack followed.

"I had Prince Charles's engagements virtually to myself; no-one else was in the slightest bit interested. Later I saw the photographs in Hello magazine - Diana in a blue print day dress, presenting an incubator to a new-born babies unit; Diana in pink and white lawn, amid the brown dust of an African village; Diana laughing as the youngest and smallest member of an Ibo dance troup took a running leap into her lap; Diana in a safari suit, greeting patients in a northern Nigerian leprosy hospital.

"That was one of the few joint engagements, and perhaps the most significant indication of what was to come. The Princess clearly relished the visit, making a point of shaking hands with the lepers, seeking out physical contact to demonstrate that leprosy is not contagious, that lepers should not be shunned - just as she was later to do with AIDS victims. Her husband, following along behind was far less at ease, and noticeably reluctant to go round embracing lepers.

"But I doubt if the Princess enjoyed her trip to Africa; if she suffered from the oppressive heat she never showed it, but sometimes she was clearly bored. Official banquets are no doubt tedious, but she practically ignored her host, the President of Cameroon, at the dinner in Yaounde. Instead her eyes kept drifting sideways to where the royal press corps was sitting - old friends and familiars, who accompanied her every day of her life.

"She gave them conspiratorial looks, flirted with their cameras. Then at one point she turned and spotted me, crouched on the floor over my tape recorder, recording the mind-numbing official speeches. She looked straight at me and gave me a sudden utterly ravishing smile. For just a moment I had her full, dazzling attention; more than a moment, I would have been her slave for life."