You are here:
Home >
Right Place, Right Time?
Gallery
Right Time, Right Place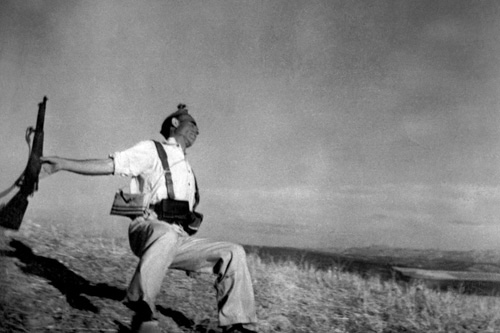 Loyalist Militiaman at the Moment of Death, 1936
© Magnum
The Leica, launched in Germany in 1925, was a revolutionary development in camera technology. Compact, quiet and with the latest lens technology it gave birth to a whole new style of instant photography.

"It allows you to be really present in the moment and glide through the moment. The thing about it is that the window is here on the corner, so that when you look through the camera your other eye is open so that you can actually watch the world. Most other single reflex cameras go in front of your face so they block off your vision." (Joel Meyerowitz, Photographer)

The Leica was the chosen tool of Hungarian-born photo-journalist Robert Capa who became famous for capturing the ultimate in decisive moments - the death of a Spanish Civil War soldier cut down by a bullet in 1936. When Civil War became World War, in 1939, Capa bought fame, heroism, and charisma to the war photographer. Working for Life Magazine he recorded that the first rule of photojournalism was 'to get close' and the second, 'to get closer.' It earned him a reputation as the world's greatest war photographer and its first real celebrity.
Extract from 'Right Time, Right Place', Genius of Photography (Wall to Wall)
Right Time, Right Place