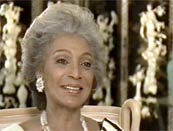 Nichelle Nichols
Nichelle's character Uhura became a role model for a generation of young black women, famously being one half of the firt interracial kiss on American television. She is now involved with recruiting from minority groups for NASA. Nichelle is a great singer, too!

Did the original series have a strong scientific and technical basis?

As an actress, how many technical lines did you have, and were they more difficult to learn?

How unusual was it for a black actress to have a role like Uhura in 1966?

Tell us about the Oscar-winning Star Trek fan.

How did the first Star Trek convention come about?

How did you feel about your costume. It was very revealing.

Were those costumes too revealing?



Printer-friendly version >>