Describe what a Betazoid is.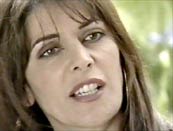 A Betazoid is someone from the planet Betazed. And if you're a full Betazoid, you are totally psychic and telepathic. But I was only half Betazoid, so I wasn't telepathic, except with my mother and possibly some other Betazoids that we met along the way. Generally, with most beings, I could just sense what they were feeling, so I was empathic.
Why I was in the poker game, I will never know, because poker's about sensing when people are bluffing, and there I was in a poker game every week. I don't think you ever actually saw me win bundles of money but I'm sure, off screen, at some point that was what I did.