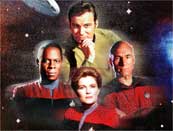 What sort of crewman would you make?
If you were in Starfleet, would you be an excellent Engineer, commanding Captain, or fearsome fighter? Or would you be the guy in the red shirt who doesn't come back from the Away Mission?
Well, it's time to find out, with our Star Trek Personality Quiz. Answer the questions as truthfully as you can, and you'll get your Starfleet rating at the end.
Back to the main Star Trek homepage.