Introduction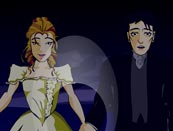 What is Ghosts of Albion?
Watch the drama - Ghosts of Albion: Embers. Five brand new, fully animated episodes. A new episode every Monday.
Treasure Hunt - Solve the puzzles and win Charlemagne's golden crown, as featured in Embers. A kind of Da Vinci code with demons, the treasure hunt has been developed in association with Britain's foremost enigmatologist, Chis Maslanka.
Behind-the-scenes - We've got interviews with the cast and crew, picture galleries, music tracks, and more.
Ghosts of Albion: Embers
Magical siblings William and Tamara Swift return to battle the forces of evil. This time they're battling zombies, necromancers and demon monkeys in the quest to find the pieces of a mystical artefact scattered across the globe!
Written by Amber Benson (Tara Maclay in Buffy) and Christopher Golden, Ghosts of Albion features a stellar cast, including Jasmine Hyde, Rory Kinnear and Paterson Joseph, plus cult favourites Anthony Daniels, Emma Samms and Roy Skelton.
So don't delay. There are dark times ahead in the world of Ghosts of Albion and we hope you like them.
---