Cambridge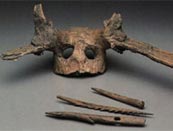 The University of Cambridge Museum of Archaeology and Anthropology.
Established in 1884, the Museum displays renowned archaeological and anthropological collections from around the world.
Collections include prehistory and local archaeology, plus historical and geographical displays of social anthropology.
VIP Passes are still available at this location.
How to get there:
Full travel and visiting details are available at the museum website.
---