Newcastle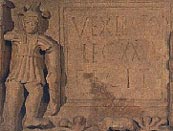 The Museum of Antiquities.
The Museum of Antiquities is the joint museum of the Society of Antiquaries of Newcastle upon Tyne and the University of Newcastle upon Tyne. It is the principal museum of archaeology in north east England.
It features a renowned collection of artefacts, models and archives relating to Hadrian's and a full-scale reconstruction of the Temple to Mithras.
VIP Passes are still available at this location.
How to get there:
Full travel and visiting details are available at the Museum of Antiquities website.
This week, as an experiment, we're also offering you a chance to win online. Try our five-question quiz and email us the keyword to tamara.swift@bbc.co.uk to be entered into our ticket draw.
All the answers can be found on the museum's website.Any spare VIP Passes from the museum as at 5 December 2004 will be sent to the first correct entries.
---