It's fair to say that the costume and design didn't make a very strong impression on you?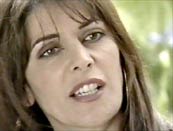 We inherited my cosmic cheerleader outfit in the very first episode from the original show. It was 'can we get Marina's skirt any shorter than this?'. Fortunately, they decided that the outfit didn't suit my character and we lost it by the second episode.
The only good thing about the show coming to an end after seven years, was that I was finally able to breathe out. Those costumes were tight - you had a grape for lunch and it showed. Watching the episodes now I can see the ones where I had gained two or three pounds, or when I'd lost two or three pounds - it's absolutely mortifying. My hat goes off to Jeri Ryan, because she manages to maintain this perfect silhouette, and unfortunately, I didn't.