Did you have any input at all into what you were going to wear?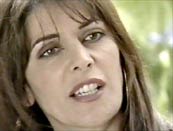 There were discussions about the wardrobe but they didn't involve the actors - well, they didn't involve me. I was just the clothes horse, and they put stuff on me. In those days, I was a tad heavier than I am now and getting my costume together was basically finding something that looked good - or looked not as bad as the other things.
I remember when I got the job, they said, 'You've got the job, lose five pounds.' And they were being generous, I needed to lose much more than five pounds. It was just a question of how the heck do we make her look half decent?
I was thrilled when I got my regulation Star Fleet uniform, or the regulation space suit, as we call it. First of all, it covered up my cleavage and, consequently, I got all my brains back, because when you have a cleavage you can't have brains in Hollywood. So I got all my brains back and I was allowed to do things that I hadn't been allowed to do for five or six years. I went on away teams, I was in charge of staff, I had my pips back, I had phasers, I had all the equipment again, and it was fabulous. I was absolutely thrilled.