Review: Smallville - Memoria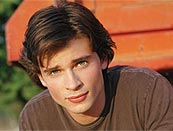 Last night's episode, Memoria - SPOILERS.
Every now and again a Cult television programme goes just that little bit deeper with its characters, putting the audience through the emotional wringer in the process.
Last night was the turn of Smallville and Lex Luthor. Throughout the series we've been forced to reappraise our opinion of Clark Kent's eventual nemesis. In Smallville he's Clark's best friend and forever placed in conflict with his corrupt father.
Every now and again there are hints of the evil to come, but last night's episode, Memoria, witnessed a turn of events which saw a revelation that made Lex out to be a saint rather than a sinner.
Undergoing some rather drastic shock treatment to lay to rest a forgotten memory that has come back to torment him, Lex discovers that it was his mother that smothered his baby brother Adrian all those year's ago. It turns out that he took the blame for the death, figuring he was already hated by his father.
The regression therapy treatment was also used as a plot device to reveal to Clark a little more about his origins. Hearing of the therapy, Lionel arranges for Clark to be captured and put in the tank – Hurrah - another excuse for the writers to get Tom Welling topless! – Before he is rescued by Lex, Clark sees his mother and father putting him in the capsule to send to Earth.
All in all, Memoria is an important episode which just about manages to avoid being too mawkish. Clark gets closer to his roots and closer to his adopted mother in the process, and Lex and Lionel reach a new understanding.
Click on the links below to watch interviews with consulting producer Jeph Loeb and co-creator Al Gough.
---
---