Edward and Mrs Simpson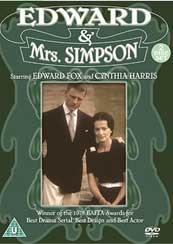 Review: Royal crisis on DVD.
Arguably, Edward Fox's finest hour, this momentous TV classsic comes out on DVD this week.
It's as graceful, stately and slow-moving as a galleon. It takes nearly 400 minutes to tell the story of how a slightly silly king and a slightly silly woman fell in love, causing lots of beastly people to be mean to them.
While the pace may have dated, the performances are still powerful - Fox, in particular, is great fun - managing to combine stubborn dignity and vanity, in a way that's rather poignant.
He's joined by famous faces with strange hairstyles. Thrill to a youngish Nigel Hawthorne with a combover. Boggle at the sight of a bald Patrick Troughton playing Clement Attlee.
Sadly, the series pretty much ends when Edward abdicates, which means we're missing much of the fun of the couple bumbling around the world in exile, flirting with fascism, playing golf and dressing well.
Send us your comment now. We'll publish the best on this page.
Thank you for your comments. The BBC reserves the right to modify any messages before appearing on this web page.
---
---