Blake's 7 Series 3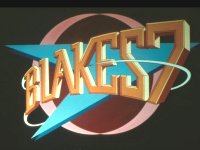 Review: The campest season on DVD!
Spiralling between car crash and I, Claudius, the third series sees Blake's 7 get bolder, braver and even more jaw-dropping.
This is a future where the women are beautiful, the men are ugly, and the only drink is creme de menthe.
It's a rivetting journey. No matter how bad an episode there's always a genius idea, belting witticism, or wonderful bit of set design that keeps you going.
We've lost Blake and Jenna, and we don't miss them. Instead we have Avon leading the Liberator crew on what's either an amoral crusade, or an interstellar pub crawl.
It's basically a fight between Servalan and Avon as to who can steal the show. Servalan wins by a swish. Mad, bad, and impossibly quotable, she's far more interesting than the Liberator crew. If she's not chained to a wall ("It is an old wall, Avon. It waits..."), she's criticizing Dayna's clothes, being set up for a gang-bang on a sheepskin rug, or failing to notice the Liberator falling apart around her ("Maximum power!" indeed).
We learn that Servalan has special buttons for dispatching her hapless minions (Poor Ginka! Poor Commander Darren!), a space ship with shark's teeth, and a fondness for being called "Woman!" by a bit of rough.
How can Avon compete? By heading for every artificial planetoid in sight (with invariably disastrous consequences), sulking in leather, and coping very badly whenever telepath Cally gets taken over by glitter balls.
New crewmember Dayna provides welcome distraction. Not only can Josette Simon really, really act, she gets the show's best introduction - she rescues Avon, announces he's the most beautiful man she's ever seen, then explains the only other man she's seen is her father, whose surname is, blissfully, Mellonby. Frankly, we're not surprised when she starts pulling large bombs from skin-tight catsuits...
The most surprising thing is seeing the Liberator eaten away by a space enzyme that attacks everything on board... except for the nasty white leatherette sofa, which is probably still floating about in space somewhere.
These DVDs come with the peculiar extras we expect of a Blake's 7 DVD. Gorgeous menus (CGI space battles to a rock guitar version of the theme), a charming interview with the make up designer, and, of course, Jacqueline Pearce commentaries.
Just as the eskimos have dozens of words for snow, so Ms Pearce has dozens of ways of saying "Darling." Witness the splendid moment where Chris Boucher explains that a set gets re-used later on in the episode.
"Oh, darling," she breathes, "Surely you redressed it?"
"Sadly, no."
"Oh. Darling..."
Send us your comment now. We'll publish the best on this page.
Neon
Blake's 7 makes Star Trek look like a insurance salesmen convention. Never before or since have we seen a villainess who only wears cocktail dresses (even in a cement quarry), star ships that swing on fishing wire, Brian Blessed exploding, a talking fishtank and heroes with hair so curly those funny guns really must have been curling tongs. I want a fifth series dammnit!
Joe
When the hell is this series coming out on DVD in the US? I'm tired of watching my crappy VHS copies! In fact there needs to be more UK sci-fi shiznit over here in the states. Too bad most Americans don't get it. On the other hand I'm glad most US networks don't air these programs. It's like being in an inside joke. Like finding a buried treasure.
Frankymole
Phil, the Dr Who '3 Doctors' disk came with a die-cast "Bessie" roadster!
Greg Shanley
Series 3 of b7 looks like it finally had some money spent on it,the first two episodes are cracking,Josette Simon makes a great start,still miss Sally Knyvette's Jenna though!
Phil Allely
Isn't dvd wonderful, whilst we all can own the old vhs of Blakes 7 there really is nothing like the dvd version to take you back to those carefree days of camp sci-fi tv. Avon finally rises to the top of the pile and battles the superb Servalan, what more can you want for your money, I've even seen the boxset where you get a die-cast mini Liberator (now why didn't the Who disc have a freebie like that?).
Max -imum power
a great series, good to see that Avon finally manages to come into his own,he`s such a much more interesting character than blake was, and Servalan is just so breathtakingly evil and goes from strength to strength. -maximum power ahead for season 4!
Rob Stickler
About time that useless twerp Blake stopped hoggin the limelight, now it's time for 'Avons 7' 'This [rock] happens to be the most sophisticated life form that it has ever been my good fortune to come across. Present company not excepted.' Avon, Harvest of Kairos.
Jon
I love the Blake DVDs. The series has never looked better. Yes, it can be camp as Christmas but it's fantastically written and acted!! Jacqueline Pearce is indeed amazing.
Chuffski-noo
Isn't it about time Jacqueline Pearce was made a Dame? Is there some kind of application form I can fill out? Her "darling"s on the Dr Who Two Doctors DVD are a joy. She plainly hasn't ever seen the programme she's commenting on. Not even when it was first broadcast. That's the kind of audacity that earns someone a Damery, surely?
Thank you for your comments. The BBC reserves the right to modify any messages before appearing on this web page.
---
---