Sapphire and Steel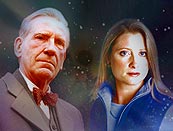 Review: Taking time back onto CD
This is a pitch perfect return for the enigmatic Time Agents. Seemingly escaped from the motorway cafe of eternity and into nice new bodies.
Susannah Harker and David Warner make great new bodies. Within minutes Harker's Sapphire is not only Taking Time Back, but also getting-on-well-with-children (perfectly like a PlaySchool presenter announcing nuclear war).
Warner is an older, grumpier Steel, sounding as though he's unhappily misplaced his last Werther's Original. It's a different interpretation of the part, but works impeccably (it's so nice have a dynamic duo who don't really get on).
They're joined, joyously, by Mark Gatiss as the purring Gold - the only man who can slouch on radio.
Their assignment is to save a man tortured by time on a train going nowhere, and it's a perfect vehicle for their return - spookily atmospheric and totally familiar (an old man, a railway setting and the vengeful dead are reminiscent of the second amazing TV adventure - but handled completely differently).
If there is a fault, it's that the adventure proceeds at an authentic snail's pace. The story feels luxuriously padded over two CDs when it could easily fit onto one - but then, the creeping pace was all part of the magic of the original.
This really is the best year for British cult fans since the 70s.
Sapphire and Steel: The Passenger has been assigned to the shops now.
Send us your comment now. We'll publish the best on this page.
Thank you for your comments. The BBC reserves the right to modify any messages before appearing on this web page.
---
---