Thriller DVD boxset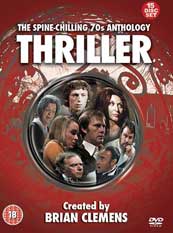 Review: All the evil of the 1970s. In a box.
Are you a pretty young blonde woman of the 70s? Do you like walking alone in the woods in the dark? Satan's in those woods.
And if he isn't, then he's probably in your creepy new boarding house, watching you in the bath. Unless it's a village. In which case, he runs the village shop. Remember that when you pop in for butter.
Or, perhaps, your new wife or butler isn't quite what you hoped - ah, that's because they're Evil.
Brian Clemens' Thriller is the addictive anthology series he made after The Avengers. The same dark wit is everywhere, with stunning performances (Diana Dors! Maureen Lipman! Dinsdale Landen! Michael Jayston!) and clever scripts.
Perhaps it doesn't have the charm of The Avengers - a lack of regulars means it's hard to get involved with Victim of the Week, but the shows are frequently gripping, even if latter series ease up on the supernatural spookiness, instead preferring twisted killers and claustrophobic settings.
If some episodes remind you of Sapphire and Steel, it's because director Shaun O'Riordan was at the helm of several of these studio bound shockers. There's a similarly relaxed pace and tense atmosphere.
The show was made for the American market, which means two delightful things - firstly, every episode features a shoe-horned-in US guest star ("I'm young. I'm pretty. Why don't I move to a remote English village?").
Secondly, every episode on this gorgeous box set comes with the alternative titles made by the US network. These are the highlight of the box set. Dated beyond belief, they use look-a-likey actors shot from a distance, with the production values of ancient porn, and, frequently, music to match.
Often, you'll get to the end of an episode, thrilled and withered, only to laugh your head off as, yet again, the US distributor completely fails to get the point ("Hmmn. You know what this is missing? A naked woman in an egg-timer. Now that's spooky!").
The Complete Thriller is out July 18th.
Send us your comment now. We'll publish the best on this page.
Ben Gunn, London
Don't know about the 'delightful' alternate titles - the original ones were very scary. They consisted of shots of various locations - doors, windows, cars - but all shot through a fish-eye lens with a blood-red surrounding. These, combined with an eerie atonal theme by Laurie Johnson, were sometimes the highlight of the episode!
Thank you for your comments. The BBC reserves the right to modify any messages before appearing on this web page.
---
---