Review: Alias - Facade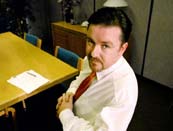 Ricky Gervais guest stars as a terrorist. Yeah.
A fantastic idea ends up as an oddly muted episode. Ricky Gervais isn't at fault - he underplays bombmaker Daniel Ryan, doesn't waste time on a silly Oirish accent, and is magnificently bitter when he reveals his cunning plan at the end... but... but... there really isn't that much there to get excited about.
It's all a bit muddled. We're never quite sure how much Ryan knew at the start of the episode or how cunning his plan really was (did he know that Syd used to be Julia Thorne, or is he just very lucky to find himself captured by his brother's murderer?). It's also hard to feel much sympathy for his plight when he's planning on blowing up a plane full of innocent people just to get at Sark (who, in this rare instance, has done nothing wrong).
The plot to trap Ryan in a fake hotel is similarly woolly. It's cunning and clever - if a deep homage to old shows like Department S and Mission Impossible. All well and good - but no-one cranks enough tension or fun out of the situation, and the bit when Syd walks in wigless to try and convince Ryan it's all been a hoax is just daft.
That's not to say the episode isn't cool - a lot of the best moments are down to Gervais. His sly expression as he realises that the CIA have done exactly what he wanted the Covenant to do is priceless. That's not to say there aren't moments when it looks like Gervais is planning on bolting for the studio door.
But the highlight is the Sark/Vaughn plot. Not only do we get Vaughn pretending to be Sark - we also get to see Vaughn hurl Sark into an airplane toilet and chain him up. Who else was squeaking "Mile High Club!"? Only me? Oh well....
---
---